Brows, Lashes & Tinting
GORGEOUS EYEBROW & EYELASH TINTING
Put simply, Tinting is Extremely Practical & Time-Saving
For clients looking to achieve a bolder look, eyebrow and eyelash tints are a simple and effective way to add definition. Make your eyes pop and your confidence soar with a professional eyebrow and eyelash tinting treatments.
Our selection of Lash, Brow & Tinting treatments:
Eyelash Tint
A lash tint will allow you to ditch the mascara and enjoy enhanced dark lashes for up to 4 weeks.
15 minutes
£12
Eyebrow Tint
An eyebrow tint takes minutes to apply and will give your brows the depth and presence to accentuate your eyes – lasting up to 3/4 weeks.
15 minutes
£10
Eyebrow & Eyelash Tint
An eyebrow tint takes minutes to apply and will give your brows the depth and presence to accentuate your eyes – lasting up to 3/4 weeks. A lash tint will allow you to ditch the mascara and enjoy enhanced dark lashes for up to 4 weeks.
20 minutes
£20
LVL Lash Lift by Nouveau Lashes
The LVL lash lift by Nouveau Lashes stands for length, volume and lift. It works by perming and tinting your natural lashes – which means no clumps, no messy glue – and having eyelashes that look incredible without mascara.
45 minutes
£45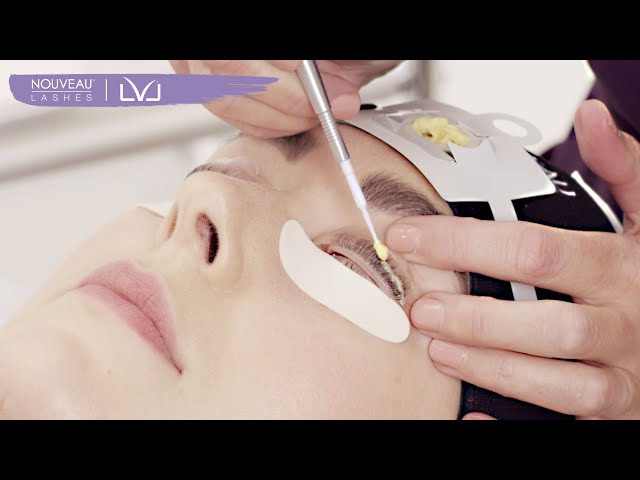 PRE-TREATMENT INSTRUCTIONS

You will need to have a patch test done prior to attending your LVL appointment. We can not carry out the treatment if this has not been done, even if you have had LVL done at another salon the patch test will need to be carried out by us at least 48-hours prior to your treatment.

A full consultation will be given and certain contraindications will be discussed, you may not have the treatment if you have any eye infections, severely watery eyes and other certain medical issues.

If you wear contact lenses you should remove these prior to having the LVL treatment, they can be put back n straight after and worn as usual whilst you have LVL.

You should arrive to your appointment makeup free, with no mascara or eye makeup.

If you are pregnant unfortunately you will not be suitable for the LVL treatment. The medication required if you had a reaction can not be taken during pregnancy, also your hormones may affect the treatment results.

POST-TREATMENT INSTRUCTIONS

One of the biggest appeals of LVL is that is requires little to no upkeep. However, the first 48 hours post-treatment do require a little bit of TLC and special attention, to ensure you get the maximum results from your lashes. Following the correct aftercare is important, as your lashes are still getting used to their new shape, and failure to do so could lead to an adverse reaction.

Showers, Saunas & Sunbeds

For the first 48 hours post treatment, completely avoid saunas, steam rooms, swimming pools and showers. The high temperature can cause your lashes to drop, or not last as long as they should, which is between 6 and 8 weeks. After this time period, you lashes should be locked in their new shape and you can shower, swim or steam as you please!

Manipulating Your Lashes

As difficult as it can be sometimes, try to avoid touching or rubbing your eye area, especially when you are washing or cleansing your face. Eyelash curlers and perming equipment are also completely out of bounds, although once you see the results of your long, lifted natural lashes you will want to toss them in the bin anyway!

Pillow Talk

Another thing to consider is how you sleep. Facing down into the pillow, or sleeping on one side could manipulate the shape of your lashes into different positions. If this sounds like you, try propping up your head with pillows, and making an effect to fall asleep on your back.








Make-up & Maintenance

An LVL treatment includes a tinting stage, which helps to lengthen and create a thicker appearance in your natural lashes without the need for mascara. However, if you still choose to wear mascara, try and use one with a water-based formula, and avoid waterproof varieties. We also recommend avoiding all oil-based products, especially make-up remover. Remember to brush your lashes through with a mascara wand after getting them wet to ensure they dry naturally in their correct shape.

As well as following the tips we have shared above, we also suggest applying Nouveau Lash & Brow Conditioning Serum as it is packed full of nourishing goodness which promotes strong and healthy lashes, and even acts as a primer beneath your mascara.

LVL LASH LIFT FAQs

How Long Does an LVL Lash Lift Last?

It lasts 6-8 weeks and is ideal for clients with a busy lifestyle, clients that do not have time for lash extensions and the maintenance involved and clients wanting a more natural lash look.

How Does The LVL Lash Lift Work?

Following on from a patch test and consultation, the lash technician will apply the appropriate sized eye shield to your eyelid and your lashes will be pressed against it using a bonding gel.

STEP 1 – Lift. With all lashes neatly bonded, a lifting balm is then applied which allows the structure and shape of your lashes to change and be lifted from the root.

STEP 2 – Volumise. Once this has been removed, a volumizing fix is applied which seals your lashes in to their new shape.

STEP 3 – Boost. A lash tint is applied to the top and bottom lashes and darkens the lashes and adds volume and length.

STEP 4 – Moisturize. Finally, a moisturising serum is applied to nourish the lashes and ease them off the shield, revealing beautiful healthy lifted lashes.

Does LVL Lash Lift Damage Your Natural Lashes?

Our LVL Lash Lift products have been developed and packed full of vital ingredients like collagen and oats to enhance your lash health and strength, whilst minimising the risk of damage. We do recommend you use the Lash and brow conditioning serum throughout the wear of your LVL Lash Lift, to help strengthen and condition your natural lashes and prevent any drying effects.


LVL IMPORTANT INFORMATION
Shop Eye Care Products
STAY IN TOUCH
Join our email list and be the first to know about specials, events and more!